Resource Centre
A friendly ear:

Need support or just someone with whom to chat?  Then contact our Listeners & Vistitors Group on listeners@ostomyweb.org.uk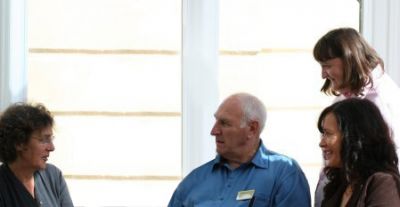 BOSS members at the World Ostomy Day held in Bristol
What's new - what's free?
The Colostomy Association publishes the quarterly 'Tidings' magazine; call 0118 939 1537 or email cass@colostomyassociation.org.uk (dontations invited). The free 'Charter' magazine also is well worth receiving, especially as it is a forum for latest developments and has lots of samples on offer.  Sponsored by Coloplast, you can get on the mailing list by writing to Coloplast Ltd., Peterborough Business Park, Lynch Wood, Peterborough PE2 6BR.
ConvaTec also produces a free stoma magazine called 'Converse'.  To get on the mailing list write to - Subscriptions, Converse, Frepost, Milton Road, Ickenham, Uxbridge  UB10 8BR; or call 0800 282254.
Short cut when cut short:
You are entitled to a key that unlocks the door to the public toilets carrying the RADAR sign. The local office to write to is:
The Vassell Centre, Gill Avenue,Fishponds or call 0117 9653651. They key costs £3.50, or equivalent to your next 350 'spend a pennies'! The organisation is based at Unit 12, City Forum, 250, City Road, London EC1V 8AF
Get in touch with professionals at:

Colostomy Association   
Enterprise House,
95 London Street
Reading RG1 4QA
(01189391537)
Free Helpline - 0800 3284257
www.colostomyassociation.org.uk



Ileostomy and Internal Pouch Support Group

 
Secretary: Bruce McKenzie
PO Box 132, Scunthorpe  DN15 9YW
(01724 720150)
Free Helpline - 0800 0184724

www.the-ia.org.uk

Urostomy Association
www.urostomyassociation.org

National Ass for Colitis & Crohn's Disease
98a London Road St Albans, AL1 1NX
(01727 830038)
www.nacc.org.uk

The Continence Foundation
www.continence-foundation.org.uk
The IBD Club (Inflammatory Bowel Disease)
www.ibdclub.org.uk
Macmillan Cancer Relief Information Line
0845 6016161 ( Local rate )
National Association for Colitis and Crohns
http://www.nacc.org.uk/
Link sites well worth a visit:
Suppliers:
Database of suppliers